If you've never given a thought to AI-powered voice assistants for your hotel, then now might be a good time to.

Hoteliers want guests to feel welcome at their property. However, it's hard to make yourself at home when you can't locate the switch to turn the light off. Or at times when you don't know how to adjust the thermostat or get local information.

AI-powered voice assistants in hotels have the potential to change that. In effect, all hotel room switches would simply be replaced with the customer's voice. And we are not speaking about a distant future. In fact, Voxogenic is actively working on adapting its AI to voice so that it can power hotel rooms by mid 2021.
"In the not too distant future, you will be able to lie on your bed in a hotel room and control room features and services entirely with voice commands. The technology behind this is already available. Many homes already have an Amazon Echo, an Internet-connected voice interface that connects you with Amazon's Alexa voice service, providing on-demand music, TV, audio books, travel information and many other services through simple voice commands."
Using voice assistants a customer can control the smart devices installed in the Hotel Room. Using Alexa and Google Home user will be able control to variety of smart products such as Windows Blinds, T.V., A.C, Water Heaters, Smart Showers & Taps, Smart Locks etc. At this point there are a lot of Smart Home manufacturers are building apps to control their devices using Voice. These can be integrated into the Voice assistant device installed in a Hotel Room.
Customer can ask the Hotel's Voice application for nearby attractions such as Tourist Places, Bars & Pubs, Restaurants, Devotional Places etc.
Customer can ask for basic room services such as Cleaning the room, Clearing the plates, extra bedsheets, pillows or blankets. Customer can also inform the Hotel whenever they want to checkout from the room.
Customer can interact with the Hotel's voice applications and order food & beverages from the Hotel's Kitchen.
Customer can book a cab to common places such as Airport, Bus Stand, Railway Station and some of the famous tourist attractions.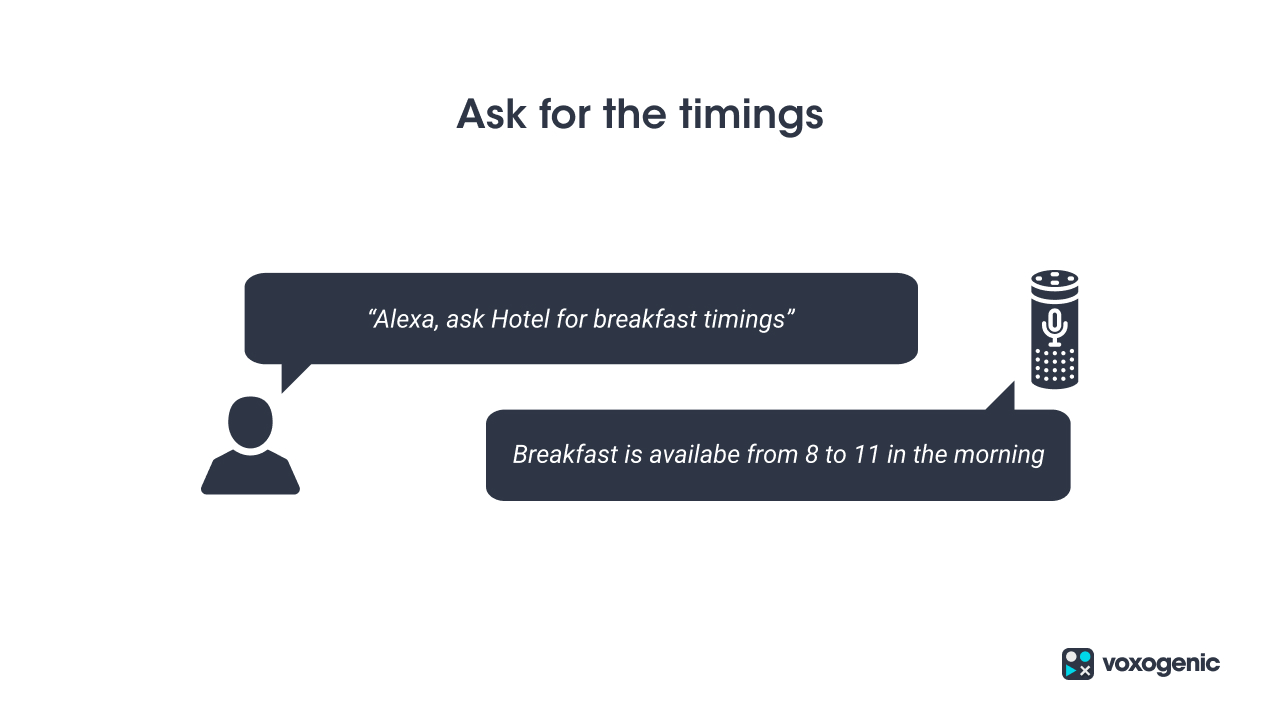 Customer can ask the timings for Breakfast, Lunch, Dinner, Swimming Pool and other on premises amenities.
VOXOGENIC CTO Tarun Dagar echoes the sentiment but believes this might appear on future hospitality technology trend lists. 'It's not hard to imagine a hotel guest speaking their requests aloud with phrases like, 'Housekeeping, please bring me extra towels', or 'Room Service, I'd like the Caesar salad at 7 o'clock please.' The only significant unknown is whether guests will have concerns that microphones are present in their room.'

If you would like to know more about this, please contact us at Voxogenic.com. We look forward to hearing from you.