It is researched that 46 percent of the US citizens use voice assistants. Observing the strong presence of voice assistants, banks, financial, service and insurance (BFSI) firms have actively adopted enterprise voice assistants for both internal (employees) and external (customers) purposes. It is said that JP Morgan &Co is enabling its clients by allowing the access to research and analytics reports through voice chatbots. Also, twelve thousand field agents to be powered by voice assistant's capabilities, states Mark Madgett, the New York Life Insurances VP.

These are some of the banks and financial firms, allowing usage of services through voice assistants:
Capital One Financial Corp. uses Amazon Alexa services (first American bank to get a voice assistant)
New York Life Insurance uses Amazon's Alexa
JP Morgan uses Amazon's Alexa
Ally Bank uses Amazon's Alexa
American Express uses Amazon's Alexa
National Australia Bank uses Google Home
Graanti, a Turkey bank uses a mobile voice assistant
Santander Bank has its own mobile app voice assistant Voiceprint app
HDFC is about to get Amazon's Alexa
Paypal is Siri enabled
Users can inquire about their account balance, latest transactions, fixed deposits, recurring deposits, loan balance etc.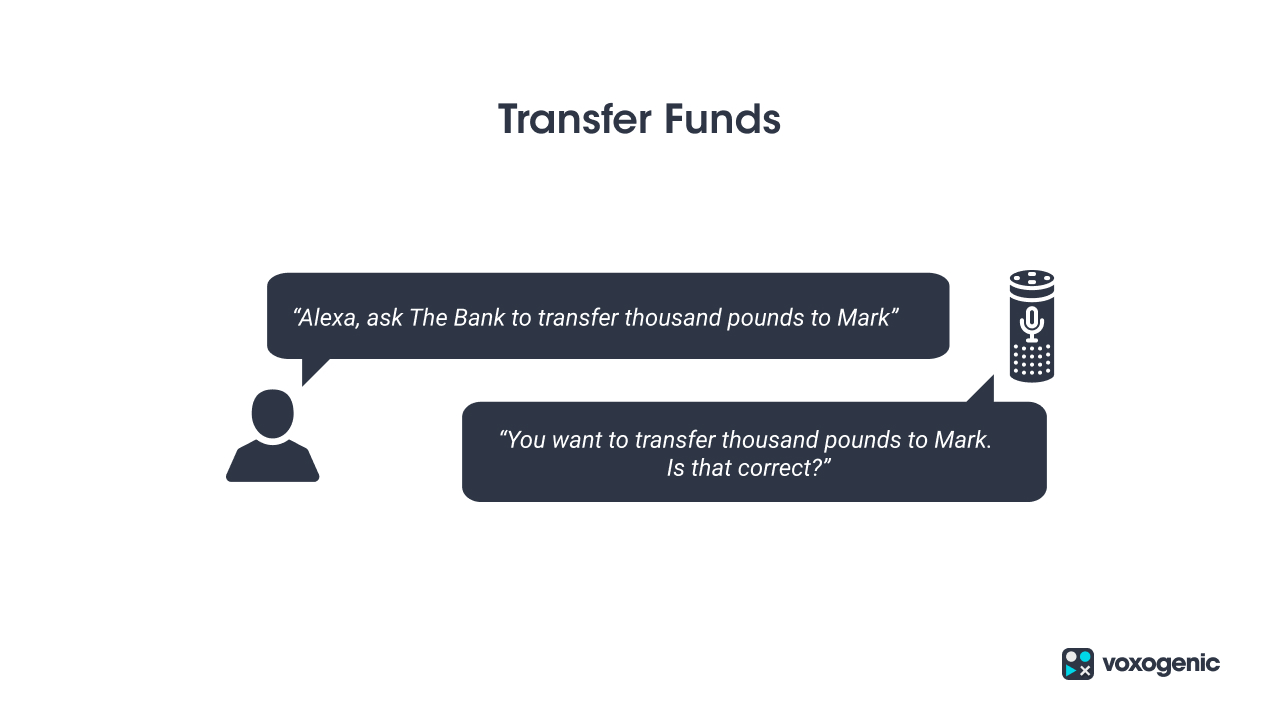 With a smart assistant, funds can be transferred in just two easy steps, making it the quickest among all interfaces. For added security, an additional step for O.T.P. verification can also be included.
Keeping track of one's upcoming due bills can be tricky. A voice assistant can help users keep track of their bills, remind them of their due date and help them pay without any hassle.
Through voice assistant you can increase the outreach of your promotional rewards. Customers will be inclined to check the offers on a voice first interface because of the ease of access.
Getting account statements regarding credit and debit transactions is something people need from time to time. With a smart assistant, users may ask for statements for any desired timeframe and the results will be directly emailed to them.
Do more than just banking. Users will also have the option to recharge their mobile phones and D.T.H. accounts hassle-free.
Customers travelling abroad rely on forex services. They can check for currency prices, get to know foreign exchange rates and get information about forex cards, all this without visiting a branch.
Interest Rates is a crucial factor for someone looking to make a long term investment. This will be possible with an A.I. assistant on their desk, users will be able to check for interest rates on F.D., R.D. and other schemes whenever they feel like.
A smart investment strategy is a prudent strategy. A smart assistant can help the user give sounds investment strategy, conversations may also be guided to inform the user about the different loan schemes.
Users will have the options to make service requests like requesting a new checkbook, hotlisting credit or debit cards etc.
Users will be able to access services related to their demat account like account balance, stock prices, portfolio status etc. and will even be able to give trade execution commands.
"Sixty-six percent of US adults use voice assistants or chatbots, and 87 percent are aware of the technologies. 21% of US adults use voice assistants or chatbots to perform e-commerce tasks like paying bills or online banking."
Catch up to the customer trend to stay live in your business. If you are still confused or willing to have more knowledge on the use cases/applicability of voice assistants in BFSI space, talk to us on Voxogenic.com for a free consultation.